T4Trade broker review
Choosing a good and reliable forex broker is one of the toughest decisions you'll ever make as a trader. With so many online forex brokers, it can be challenging to find the best one.
But T4Trade is one such broker that has made its way to becoming the best forex broker in a short time. The platform provides top-notch and industry-best trading services to its clients.
In addition, the brokerage platform also offers trading on various asset classes, including, Forex, Cryptocurrencies, CFD trading on Commodities, Stocks, and Indices.
That's not all! There's a lot more to learn about this broker. Read this T4Trade Review to understand more about the services provided by this broker. 
T4Trade is a reputable, multi-asset broker that is authorised and regulated by the Seychelles Financial Services Authority.
The broker offers more than 300 trading products, including: Forex, Metals, Indices, Commodities, Futures and Shares. The broker also just introduced a new service called Academy, which offers educational webinars, trading podcasts and a huge selection of educational videos available on demand. In addition, T4Trade provides 24/5 live customer support who are always very friendly and professional.
When choosing a forex broker, there are numerous things to consider. Prior to opening a trading account with a broker, you should have all the information about regulations, trading instruments available, trading fees, platforms, funding options and customer service. Let's dive deeper and find out more about the broker T4Trade.
Regulatory framework of t4trade
When it comes to trading, it's essential to trust your broker with your money. To be able to do that, you need to make sure that your broker is regulated. The stricter the regulations, the better your funds are protected.
T4Trade is authorised and regulated by the Seychelles Financial Services Authority (FSA). The fact that the broker is regulated by the Seychelles FSA makes it possible to offer higher leverage.
To ensure safety and security of client funds, T4Trade keeps client funds in segregated accounts with top-tier banks. Account segregation guarantees that even if the broker becomes bankrupt, client funds will be safeguarded.
Reviewing t4trade – steps to get started
The broker offers a user-friendly webpage. Registering and account opening is super easy. The process is usually very quick.
In order to open a live trading account, open the broker's main page. In the top right corner, you'll be able to see a Sign-Up button. By clicking this button, you will be directed to the registration page.
During the registration, you'll be required to provide personal information and choose your account settings such as: account type, base currency and leverage.
In addition, you will be greeted with deposit bonuses.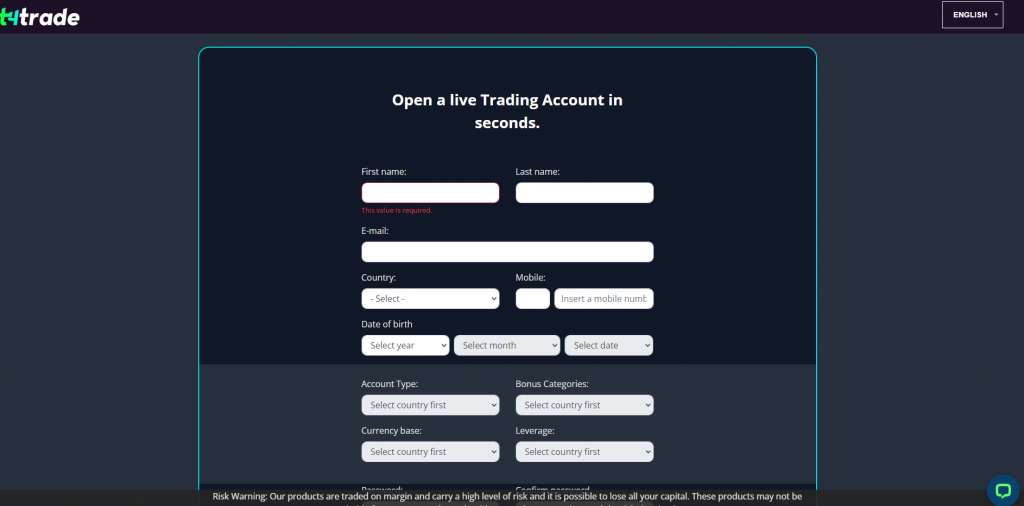 T4Trade review – account types
There are various types of traders with different trading needs. Some prefer fixed spreads, while others want floating spreads. You'll be able to choose your account type during registration. Let's have a look and find out more about each account type.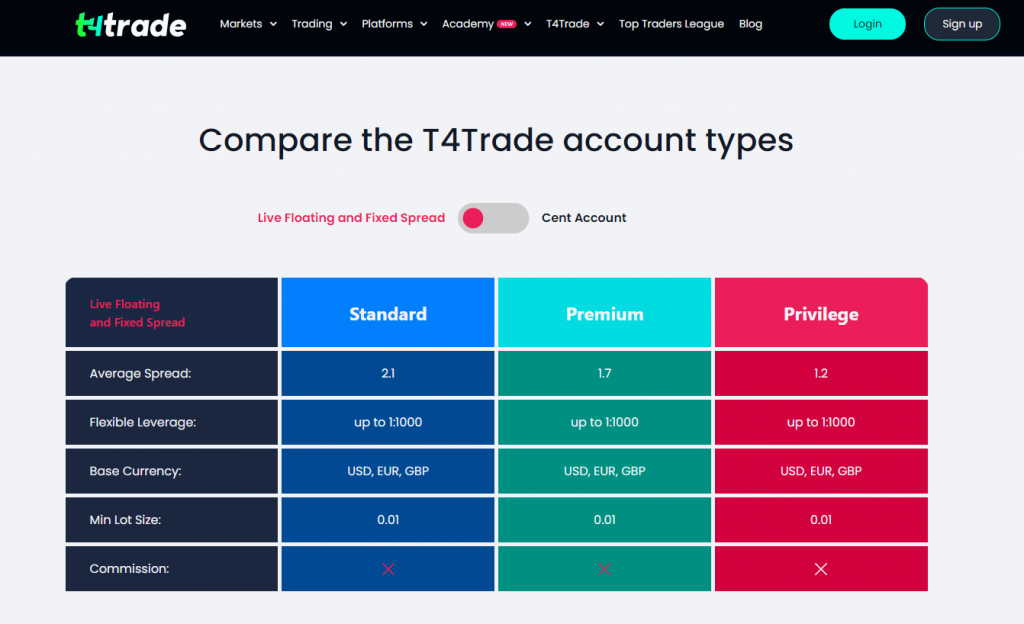 Floating spread and Fixed spread accounts
There are Standard, Premium and Privilege live Fixed and Floating spread account types. Floating spreads mean that spreads are determined by the market and change is based on market activity. Fixed spreads do not change.
Each account type offers flexible leverage. Keep in mind that choosing a high leverage is not always a smart decision. Leverage helps traders increase their purchasing power and get higher returns. However, when trades go against predictions, high leverage can increase losses.
Base currencies include USD, EUR and GBP. If you live in Europe, it's best to select EUR as base currency to save on conversion fees when withdrawing profits.
Spreads and trading fees are reasonable with this broker. There are no commissions and average spreads depend on account types. Fixed spread accounts are better when trading less during active trading hours, such as in Sydney and Tokyo sessions. Floating spreads are best when trading active markets such as London and New York trading sessions.
Demo and Cent accounts
The broker also offers free Demo and Cent accounts. Demo accounts are best for developing and testing trading strategies without risking real funds. Demo trading is similar to live trading, the only difference is that the funds are virtual.
There is also a cent account, which is best for transitioning from a demo account to a live one. The Cent account type is similar to the Standard account, the main difference is that the account balance is denominated in Cents. Cent accounts help traders test their strategies live with small risks. In addition, they get to know about broker policies and trading fees when live trading.
T4Trade review – available assets
Access to various trading assets is critical for most traders. Each asset class offers different trading opportunities and requires unique strategies to make profits. Some traders are good at trading shares as CFDs, while others are good at trading Forex pairs. With T4Trade, you have access to more than 300 trading instruments that are categorised into 6 classes.
Forex

Metals

Indices

Commodities

Futures

Shares
It's important to note that these are CFDs and not physical assets such as physical metals or physical stocks. The main benefit of trading CFDs is that you can speculate on asset prices without owning them. When trading CFDs, you can use higher leverage and go long or short to benefit from price moving in any direction.
Trading platforms of T4Trade reviewed
T4Trade offers access to the most popular forex trading platform, MetaTrader 4. Traders can also use the platform's web trading and mobile trading versions.
MetaTrader 4 was released in 2005. The platform hasn't changed much since its release. For some traders, the platform might look outdated, however, it still remains the most popular trading platform today. One of the main reasons why the MT4 is so popular among traders is that it's simple to learn, use and has an outstanding performance. Even today, most trading platforms fail to compete against the reliability of MetaTrader.
The fact that MT4 is one of the most popular trading platforms explains the huge number of trading algorithms and indicators that are available on the market. Trading algorithms help traders to automate their trading, and you can create or access them from MetaTrader marketplace. Some algorithms are free.
Mobile trading at T4Trade review
T4Trade enables traders to download and install a mobile trading app on their Android or iPhone. Mobile trading is essential for most traders. Mobile apps keep you close to markets from anywhere in the world. While it's not recommended to analyse markets and actively trade on mobile, as you need a much bigger screen to do that, mobile apps are useful in managing your trades. Mobile apps will help you open or close orders in emergency situations such as power outage, loss of internet connection to your computer, breakdown of your PC, etc.
Deposit and withdrawal options at T4Trade
There are different types of deposit and withdrawal options for every country. The minimum initial deposit depends on the deposit method and account type. There's a minimum 10 USD deposit requirement when depositing via E-wallets. For credit card, it's 50 USD and for bank wire transfer, the minimum deposit is 100 USD.
Please note that the amount you deposit can only be withdrawn using the same method. For instance, if you deposited 500 USD using your credit card and increased the amount to 1,000 USD through trading, you can withdraw 500 USD back to your credit card account. The remaining 500 USD can be withdrawn using Bank wire, Digital assets or E-wallet (Skrill or Neteller).
So, is T4Trade a legit Forex broker?
To sum up, T4Trade offers a wide range of instruments, it is regulated, offers great customer support and access to the most popular forex trading platform. With this broker, you can open various types of accounts and get the benefit of flexible leverage. However, keep in mind that leverage should be used wisely as it's a double-edged sword. The best way to know whether the broker is for you or not is to open a demo or cent account. The registration and account opening process is smooth, fast, digital, and user-friendly.